IFC Markets' trading platforms for desktop, tablets and mobile devices. Source: IFC Markets 
If you're into forex trading and are looking for an online forex broker that also allows you to trade other assets via CFDs, then IFC Markets would definitely be worth checking out. The broker has won 8 international awards in a number of categories over the last 2 years primarily for its services provided in the Asian and Southeast Asian forex and CFD markets. IFC Markets also provides a trading service in Canada and compares favorably to other Canadian forex brokers. 
One of IFC Markets' most notable features is its proprietary GeWorko Portfolio Quoting Method that allows you to create and trade your own financial instruments. You can also trade the personal composite instruments created by the IFC Markets team. These include a high-tech index, gold versus Brent oil, the DJIA versus the euro, and the Russian ruble versus the Japanese yen. 
IFC Markets gives you access to instant trade execution in over 600 different assets including currency pairs, exchange-traded funds (ETFs), precious metals, stocks, indices and commodities. Instruments you can trade at IFC markets include: 
Currency pairs: IFC Markets lets you trade 49 different major, minor and exotic currency pairs with floating and fixed dealing spreads. Spreads vary depending on the account type, starting at 0.4 pips for EUR/USD on the MetaTrader 4 or 5 (MT4/5) platform. You can also trade synthetic pairs created either by you or the IFC Markets team.  
Precious metals CFDs: You can trade gold, silver, platinum and palladium against the U.S. dollar and the EU euro. You can also create synthetic combinations like silver against the Australian dollar, Japanese yen or Mexican peso, and gold against the Australian dollar, Swiss franc, Japanese yen or Russian ruble. 
Stock CFDs: IFC Markets offers trading in CFDs on stocks from the following exchanges:

The Nasdaq and New York Stock Exchange (NYSE)
London Stock Exchange (LSE)
Hong Kong Stock Exchange (HKEx)
Australian Securities Exchange (ASX)
Japanese Tokyo Stock Exchange (TSE)
Canadian Toronto Stock Exchange (TSX)
Russian Stock American Depository Receipts (ADRs)
Global Depository Receipts (GDRs) traded on the LSE
Deutsche Boerse (Xetra)
Commodity CFDs and CFDs without an expiration date: You can trade a wide variety of commodity futures CFDs through IFC Markets including energy, metals, grains, soft commodities, cattle, hogs and cotton futures. You can also trade commodity futures without an expiration date, as well as synthetic instruments combining a number of commodity futures contracts with major and minor forex currencies and several indices on a variety of markets.
ETFs: IFC Markets allows its clients to trade ETFs like the SPDR Gold Trust (ETF-GLD), iIShares U.S. Real Estate ETF, SPDR S&P 500 ETF Trust and the iIShares 20+ Year Treasury Bond ETF. 
CFDs on crypto futures: You can trade Bitcoin futures with 3 different expirations through IFC Markets, including the near-term and next 2 futures expirations. 
Indices CFDs: IFC's tradable market indices include: 

Australian ASX 200 (AU200) 
German DAX Index (DE30) 
Dow Jones Index (DJI)
UK GB 100 Index (GB100)
Hong Kong Hang Seng Index (HK50)
Japan Topix Index vs JPY (JP2000)
Nasdaq Index (Nd100)
Japan Nikkei Index (NIKKEI)
Russell 2000 vs USD (RUT2000)
S&P 500 Index (SP500)
US VIX Index (USVIX)
US Dollar Index (USDIDX)
Synthetic instruments: You can trade synthetic instruments created by IFC's Personal Composite Instrument (PCI) technology. These assets include indices of a variety of currencies, plus financial, healthcare, industrial, non-cyclical and Russian stock indices. 
IFC Markets provides its clients with some of the best customer service options in the industry and has its own Customer Relationship Management (CRM) software that provides clients with excellent support. IFC also provides a blog and full technical support for Autochartist, including expert advisors.
The broker offers multichannel live support 24/5 in 12 languages, in addition to its multifunctional website that is available in 19 languages. You can contact IFC through Live Chat, email, Skype, Facebook Messenger, WhatsApp, Telegram, Discord, Instagram and Signal. If you're based in the U.K. or Canada, you can contact the broker via phone or request a callback. 
Dealing spreads at IFC for forex trades start at 0.4 pips for floating spread and 1.8 pips for fixed-spread accounts, although spreads increase depending on the trading platform and currency pair. CFD trades incur a minimum commission of 0.1% of the traded amount, which amounts to $0.02 per share for U.S. stocks. For more information on share commissions in other markets, click here. 
No minimum deposit is required to open a NetTrade beginner or MT4/5 micro accounts, although a minimum deposit of $1,000 is required to open standard NetTrade or MT4/5 accounts. Leverage ratios depend on the type of account and instrument traded. 
Maximum leverage ratios at IFC range from 200:1 to 400:1. For specific information on the leverage available for different positions and account types, click here. 
To fund your IFC Markets account you can make a deposit via a Visa or Mastercard bank card, International Bank Transfer, Perfect Money, Boleto, Pasargad Novin, TopChange, Bitwallet, WebMoney, Unistream and Bitcoin. Some deposits are processed immediately, while others take 2 or 3 days, depending on the deposit method.  
While IFC Markets does not have its own mobile app, all of its supported trading platforms, (MT4/5 and NetTradeX) have iOS and Android mobile and tablet versions. You can also access the NetTradeX platform through Windows Phones. The MetaTrader platforms also have web-based and desktop versions. 
IFC Markets offers competitive dealing spreads and provides clients with excellent support. Clients of IFC Markets can also receive technical and fundamental analysis produced by the broker's own expert team, as well as free support for AutoChartist that provides visual market analysis, engaging content and risk management assistance. 
In addition to providing top-quality trading platforms that include MT4/5, the broker provides an impressive market education section on its website. This makes IFC Markets suitable for beginning and new traders. Other advantages include Islamic accounts, an extensive analytics section and a free demo account so you can gauge IFC's offerings and practice your trading. 
IFC promotions. Source: IFC Markets. 
On top of all that, IFC Markets has some attractive promotions. With a minimum deposit of $250, you qualify to receive as much as a 50% bonus on your deposit and can enter to win one of several prizes including: 
A Ford Mustang Mach-E
A Hublot gold watch
3 dream cruises
5 Apple Macbook Pros
10 iPhone 12s
10 iPad Airs
80 $100 withdrawable bonuses
You can also earn up to 7% annual interest on the free margin money in your trading account. 
With respect to IFC's user experience, the broker supports the popular MT4/5 trading platforms and maintains an intuitive, easy-to-navigate website that provides users with all the information they need to begin trading. You can also take advantage of a free demo account that allows you to gauge the broker's services and develop a trading plan. In addition, IFC Markets offers an extensive educational section that novice traders should find very helpful.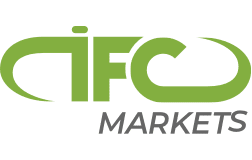 Account Minimum
Micro Accounts: $1
Standard Accounts: $1,000
Spread
Floating spread: from 0.4 pip (EURUSD ), fix spread: from 1.8 pip (EURUSD)
IFC Markets vs. Competitors
Regarding how IFC Markets compares to its competitors, very few forex and CFD brokers offer as many advantages as IFC that include the ability to create your own synthetic trading instruments. Plus, if you fund a trading account, you qualify to win one of the great prizes offered by the broker. Choosing IFC Markets can make sense whether you're a novice trader or have years of trading experience. The main downside of this broker relative to some of its competitors is that it lacks a major regulator, although it is overseen by 3 minor regulators.
Overall, IFC Markets qualifies as an excellent choice among currently available forex and CFD brokers, and while it lacks a major regulator, it does have 3 minor regulators. IFC's wide range of tradable assets, competitive dealing spreads and other advantages, like impressive promotions and the ability to create and trade your own synthetic assets, help make this popular broker suitable for novices and experienced traders alike.  
IFC Market Tutorial
For a better idea of the advantages of trading through IFC Markets, you can check out the market tutorial on the broker's YouTube channel. 
Frequently Asked Questions
Is IFC Markets regulated?
1
Is IFC Markets regulated?
asked
Jay and Julie Hawk
1
IFC Markets only has oversight from 3 relatively minor regulators. They are the Labuan Financial Services Authority (LFSA) in Malaysia, the British Virgin Islands Financial Services Commission (BVI FSC).
Answer Link
answered
Benzinga
Which broker is the best for forex trading?
1
Which broker is the best for forex trading?
asked
Jay and Julie Hawk
1
The best broker for forex trading depends in large part on your needs and preferences. IFC Markets would be a decent choice for many traders, although you would not qualify to open an account with that broker if you're based in the U.S., Japan or Russia. 
Answer Link
answered
Benzinga
FOREX.com, registered with the Commodity Futures Trading Commission (CFTC), lets you trade a wide range of forex markets plus spot metals with low pricing and fast, quality execution on every trade. 
ForexSignals.com offers a highly rated platform with mentors who have 80 years of combined experience in the trading pits. They'll help you decode real-time daily live streams using market analysis, trade signals and more. ForexSignals.com doesn't stop there. You can access hundreds of educational videos and workshops and even individualized private sessions with mentors. Never trade alone! Join ForexSignals.com now.
Credit: Source link