Facebook is "cooperating fully [with investigations] … these features are common to many apps and we look forward to explaining them and the protections we have put in place," said the social media giant in a statement.
It is less than two weeks since the personal details of 533 million Facebook users, including their birth dates and biographical details were shared online after an audacious hack on a software loophole. Now one of the biggest names in Silicon Valley has again found itself under the scrutiny of watchdogs in Ireland.
Privacy regulators are to open an investigation into Facebook, over a suspected violation of strict European Union privacy rules.
Elsewhere, the shares may still be falling, but sales at Deliveroo are booming, according to the food delivery giant's first trading statement as a public firm. Will it be enough for Deliveroo to put its recent troubled past behind it and attract investors? 
One firm that has had no problems with its recent stock market flotation is Coinbase. On its first day of trading in New York, shares in the cryptocurrency exchange jumped 71 percent.
We speak to one industry watcher who thinks the Coinbase float finally marks a new era for virtual currencies. 
And in a move that will dishearten hard-pressed renters the world over, Germany's top court has struck down the recent attempt by city authorities to impose a five-year freeze on rent rises. 
See our graph for how much you can expect to pay, even for a modest one bed, in the world's costliest cities. 
Read on for all the day's business news in full.
Louise Greenwood,
Digital correspondent
P.S. Did someone forward this to you? Sign up here
Ireland's data regulators have launched an inquiry into Facebook after a dataset, reported to contain personal details of some 533 million Facebook users worldwide was made public last week. Facebook has said in a blog post that "malicious actors" had obtained the information before September 2019 by "scraping" profiles, exploiting the platform's tool for contact-syncing. About 1.5 million Irish citizens are believed to have had their data compromised through the leak, along with 11.5 million Britons.
The Data Protection Commission in Dublin said that one or more of the EU's General Data Protection Regulations (GDPR) may have been infringed along with the 2018 Data Protection Act 2018. The DPC, which is the European Union's lead regulator of big tech platforms had more than 27 major inquiries open at the end of last year, 14 of which are into Facebook and its WhatsApp and Instagram subsidiaries.
Meanwhile, one U.S. advocacy group has called on Facebook CEO Mark Zuckerberg to drop plans for an Instagram-style app targeting the under-13s. In an open letter, the Campaign for a Commercial-Free Childhood said Facebook's plans for a new photo-sharing platform for younger children would put them at "great risk" of exposure to inappropriate material, adding that Instagram's focus on physical appearance and would be problematic for developing adolescents. 
Orders and sales more than doubled at food delivery giant Deliveroo in the first three months of the year, according to the firm's first trading statement as a public limited company. Deliveroo says transaction values for the fourth quarter rose 130 percent to $2.27 billion. The number of customers using the platform has risen 91 percent year-on-year to 7.1 million. 
Last month's float, after which Deliveroo's share price fell by a third in a week, was scuppered by an unofficial boycott by some of the UK's biggest investment funds. Leading investors had raised concerns about Deliveroo's business model and the legal status of its workers in light of a recent supreme court ruling in favor of Uber drivers. However, Deliveroo added in today's release that rider satisfaction in the UK was at an all-time high of 89 percent at the end of March. But the group's CEO Will Shu admitted he still had "a lot of work ahead" to win over investors, with share prices in early London trading at 266 pence, around a third below their float price of 390 pence.  
Shares in cryptocurrency exchange Coinbase rose again on Thursday after a debut that saw the firm's value boom to nearly $100 billion. The stock was up 11 percent in pre-market trading after reaching a midday high on Wednesday of $381 per share on the Nasdaq, before closing at below $330. The result gives Coinbase a market capitalization above that of household names like oil giant BP. Coinbase had more than 56 million users across more than 100 countries and held $223bn in assets at the end of March.
The value of the rouble and Russian bonds have fallen after the Biden administration announced plans for a raft of new sanctions on Moscow. Washington is taking action for alleged misconduct by Russia in the run-up to the U.S. presidential election and its part in the so-called SolarWinds hack. The plans include barring U.S. financial institutions from debt purchases issued by Russia's central bank and finance ministry and its sovereign wealth fund.  
The world's second-largest car maker says the ongoing shortage of semiconductors is now the only factor weighing on a global recovery of the car industry from the pandemic. Herbert Diess, CEO of Volkswagen, was speaking at the Hannover Messe auto trade fair, as U.S. rival Ford announced the closure of five of its facilities due to the shortage.
However, Taiwan's Semiconductor Manufacturing Company has warned the semiconductor shortage is likely to continue into 2022, despite efforts to boost productivity. The world's biggest contract chip maker says it is expanding capacity and control pricing as it announced a 19.4 percent rise in first-quarter profit to $4.93 billion, ahead of analysts' expectations. Revenue also rose 25.4 percent to a record $12.92 billion as the COVID-19 pandemic fueled demand for chips to power devices such as smartphones and laptops.
Shares in German housing groups have jumped after the country's top court struck down Berlin's controversial five-year rent freeze, saying the city authorities lacked the power to regulate the market. 
Failed low-cost UK airline Flybe is close to taking off once again after administrators said they had completed its sale. Cyprus-based shell investment company Thyme Opco has bought the group's name and assets and plans to resume flights this summer, on a smaller scale than before under the new name Flybe Limited. The carrier based in the southwest of England was pushed into administration in March last year at the start of the COVID-19.
European low-cost airline Wizz Air has warned it expects to make a net loss of up to $707 million in the year to the end of March, with demand staying patchy as Europe emerges from national lockdowns. In a statement to shareholders, the Hungaria-based carrier says travel restrictions will drag on trade for the future while Wizz Air will "review aircraft allocation on a market-by-market basis."
China's ByteDance is expected to float its entire operation on the Hong Kong Stock Exchange in the second quarter, according to press reports. The Tiktok owner, shares in which are already trading privately at levels that value the company at $300 billion, is understood to have opted against a U.S. listing, due to changes in the regulatory environment on the New York markets. Instead of a partial spin-off of its Douyin video-sharing platform, it will reportedly list its entire business in Hong Kong, although the group has so far declined to comment publicly.
South Korea's Hyundai says it plans to launch electric vehicles in China every year from 2022, unveiling a total of 21 new EV models, despite production issues. The range from the Hyundai and Kia brands will include hybrid and fuel-cell vehicles.
The Chinese-owned Swedish electric car maker Polestar has raised $550 million in an external funding round. Polestar, part of the giant Volvo group, which builds hybrid performance cars in Chengdu and a sedan model in Taizhou, says the backing from Chinese investors Chongqing Chengxing Equity Investment Fund Partnership and Zibo will help accelerate product development and output. 
Entain, the owner of the UK's biggest betting chain Ladbrokes Coral bookmakers says online net gaming revenue grew 33 percent in the first quarter of 2021. It is the 21st consecutive quarter of double-digit growth for the group. However, overall gaming revenues were down 13 percent as high street betting outlets remained closed due to pandemic requirements.
And one of the UK's biggest retailers Marks & Spencer has begun legal action against German rival Aldi over claims it has infringed the copyright of one of its most popular cake designs. M&S says Aldi's Cuthbert the Caterpillar cake "rides on the coat-tails" of M&S's reputation, by copying its own Colin the Caterpillar trademark treat. The retailer has three trademarks all relating to Colin, aimed at retaining his distinctive character and reputation. The firm has lodged an intellectual property claim with London's High Court to stop Aldi selling anything similar in the future.
 
WATCH: Don't expect any tips from these "customers." A restaurant owner in Kosovo is using mannequins as a silent protest against the COVID-19 lockdown. 
The first major cryptocurrency business to make its stock market debut has begun trading on the Nasdaq in New York. Advocates say the flotation of Coinbase is a landmark moment for virtual currencies to be fully embraced into the mainstream, while others are clear that it is a bubble about to burst. 
CGTN Europe spoke to Jeffrey Tucker, editorial director for the American Institute for Economic Research, for his response.  
Everybody is excited about it for a reason and it does seem like the legitimization of 'magic internet money'. It's not an IPO. With an IPO, you have to go crawling around with the big banks, the big institutional investors, and do a dog and pony show for them and a kabuki dance, and it is supposed to stabilize the price. But we've seen a couple of direct listings this year already that were very successful with companies that have widespread public recognition and a great deal of democratic market confidence. So this is really sticking it to Wall Street, [saying]: 'We're going to go directly to the people and see what the market has to say.'
What's different about the Coinbase model? 
The innovation of cryptocurrency was supposed to be all about disintermediation, you know, peer-to-peer exchanges of value that left out the financial intermediaries because it has built within it both a medium of exchange and then also a payment system, too. That's the essence of what the blockchain is. But what Coinbase is of course, a complete suite of on-ramps and off-ramps for all crypto-assets and therefore becomes enormously useful. 
And finally, rents in Berlin look set to start rising again, as the city's five-year rent freeze is deemed invalid by Germany's top court. The COVID-19 pandemic has led to many renters leaving the world's top cities and switch to remote working instead. The figures show that those who stay will have to dig deep to live in the world's most expensive locations.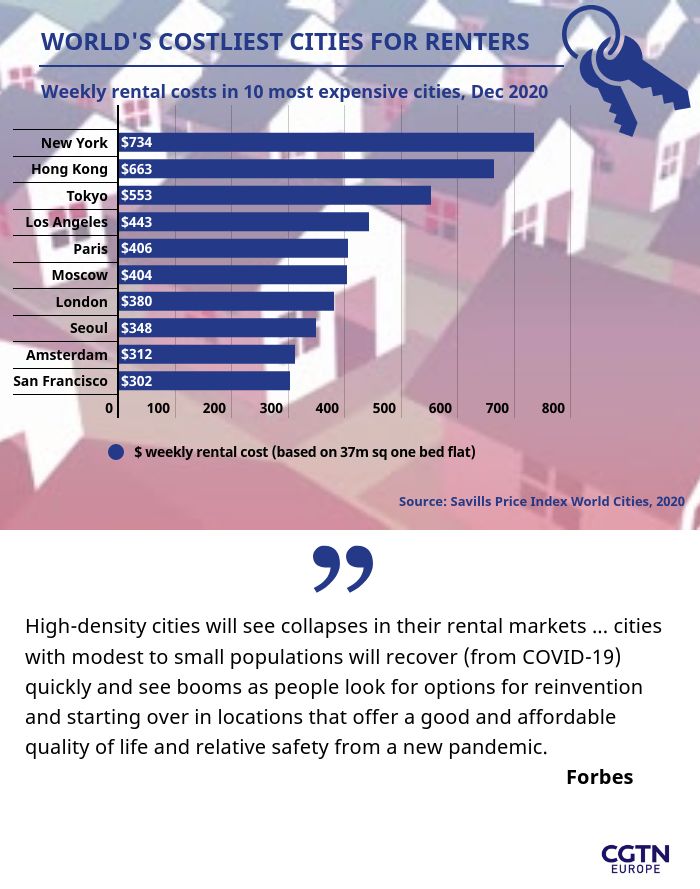 Source(s): Reuters
Credit: Source link