This week in the world of crypto, analysts said USD and Coinbase might be partially blamed for the Monday BTC crash, EOS prices were in a tailspin after Daniel Larimer stepped down from his role as Block.One CTO, and XRP dropped following several mixed news. Meanwhile, lawyers planed to file motion with the Cyprus regulator to revoke eToro's licence, and eToro said it may limit buy orders this weekend. Also, Bakkt plans to have nearly 20m users by next year and said their post-merger enterprise value might reach USD 2.1bn, believing the cryptocurrency market will grow to the USD 3tn mark by 2025, while Ruffer revealed why they invested GBP 550m in the 'nonsensical' 'beast' bitcoin, as American financial advisors are growing increasingly crypto-keen.
In the meantime, the ECB President attacked BTC again, as Europeans warn the ECB not to mess with privacy in the digital euro. A new Russian banking regulations will allow financial institutions to freeze or block the crypto-related bank accounts, regulators gave a green light for Hong Kong's first Bitcoin ETF, South Korean commercial banks are now racing with each other to launch cryptoassets custody products, more details on the Chinese digital yuan 'hard wallet' emerged, and Mexico may be forced to issue digital peso. Meanwhile, Coinbase apologized to its Europe-based customers promising changes, and Ledger promised funds insurance as they confirmed that Shopify hackers obtained users information. And all this may be insignificant to an American computer programmer who has just two more password attempts to access USD 241m worth of BTC.
And now, as promised in the title, the jokes.
__________
Hey, Crypto Twitter, all good? What are we thinking about this week?
4:00 am: Jack wakes up, meditates for one hour returns barefoot to the temple and dumps 200 btc before yoga class begins for the day

— kilobitcat (@kilobitcat) January 11, 2021
__
The week started with a drop.
Me seeing Bitcoin going down from r/Bitcoin
__
And it was a looong fight for survival.
i survived the crypto bear market

of January 11 8:20 AM – 11:30 AM

— 𝐬𝐜🍥tt 𝐋🌾 (@scott_lew_is) January 12, 2021
__
Don't get used to ATHs, lest your life turn meaningless.
__
But we're going up again. Not late to board, there's the next stop.
Now that #Bitcoin has moved +75% past the 2017 all-time highs people will start to feel it is too late.

It isn't. https://t.co/XkutG67r9E

— Alistair Milne (@alistairmilne) January 6, 2021
__
Though, you know, buying the dip is always better.
People that didn't buy ze dip rn be like… pic.twitter.com/q2vREaBU4V

— Panama Crypto (@Panama_TJ) January 12, 2021
__
Feeling goood!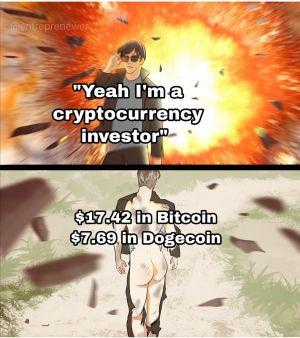 __
Finally came the time for the 2017 top buyers to laugh manically – the new generation is here.
My feelings seeing this drop as a 2017 Hodler from r/Bitcoin
__
All my 2021 top buyers out there, le'me hear youuu!
First time ? #bitcoin pic.twitter.com/gtDWInC3tB

— CryptoChimp (@Cryptanzee) January 11, 2021
__
A brilliant strategy! Wait till it drops a bit again, sell quickly before it drops further, rebuy at around 60K or so.
Really scared of dip should I sell now and rebuy at 50k? from r/Bitcoin
__
And to match an excellent strategy, here's a suitable course.
Offering this course- 1btc per day. How to turn $10000 into $1 . Limited slot! DM pic.twitter.com/FjRQmWkFT4

— Sphagetti (@MagaritaRARA) January 11, 2021
__
Speaking of strategies, here's one where no work is necessary. Just the opposite. Do nothing.
Live look at whales accumulating cheap Bitcoin — HODL! from r/Bitcoin
__
Say no to sales.
Sell your Bitcoin, take some profits… from r/Bitcoin
__
Gobble, gobble, gobble…
#Bitcoin pic.twitter.com/e4CmOtAOo4

— Paolo Ardoino (@paoloardoino) January 8, 2021
__
And they'll think it's a myth.
Future generations will read history books about primitive societies in which the global supply of money was set at bi-weekly committee meetings.

— Naval (@naval) January 14, 2021
__
'Heeere's bitcoin!'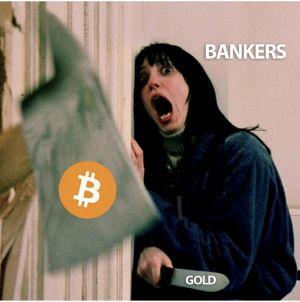 __
Have no idea what's happening here but it's fascinating! Does this thing have a governance token?
An accurate representation of DeFipic.twitter.com/73M0P8uqCP

— CryptoCharles (@CryptoCharles__) January 5, 2021
__
It's a fist that keeps on hitting.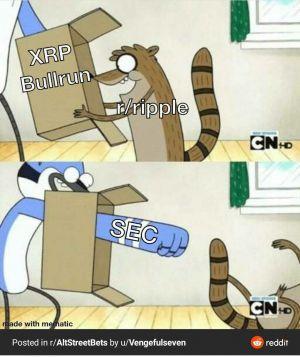 __
'Now that we've all gathered here…'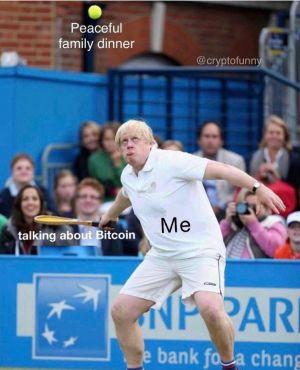 __
If you invite it, it'll come.
do not reject the pump into your life

let the pump flow into you
let the pump flow out of you

you are the pump
and the pump is you

— 찌 G 跻 じ ⚡️ 🔑 (@DegenSpartan) January 13, 2021

Credit: Source link